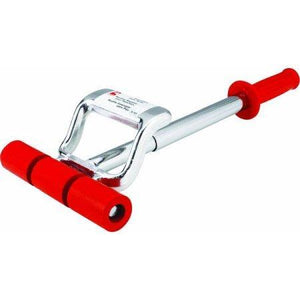 Roller for Installing Self-Adhesive Truncated Domes ADA Pads
TDD-SST-ROL
Regular price
$115.00
$0.00
FREE SHIPPING
Truncated Domes Installation Roller for Mounting Self-Adhesive Truncated Domes on Asphalt or Concrete
This high-quality roller tool can be used when installing self-adhesive PowerBond ADA mats. Once the ADA pad is laid down in position, roll the tool evenly across the mat's surface to insure maximum adhesion to substrate. The roller exerts even pressure on smooth or uneven surfaces. Roller's wheels fit in-between truncated domes. Using this roller helps to ensure a tight bond of the mat to the substrate.
While not necessary for installing our self-adhesive ADA mats, this roller is a great way to ensure a strong, even bond between the self-adhesive mat and the surface it is mounted on. If your project calls for installing more than one or two mats, this roller will save you time, as well as making sure each pad is uniformly bonded to the surface it is mounted on.
Truncated Domes Roller Tool for Installing Self-Adhesive ADA Pads
7.5" wide
Adjustable Handle extends from 17 to 27 inches
Compact enough to fit inside most toolboxes
Non-marking wheels will not scuff mat
Rollers are spaced to allow for passing between rows of truncated domes
---
Every Order from Truncated Domes Depot Gets

Free Shipping
High Quality | American Made | ADA/California Compliant
Our American Designed and Manufactured Truncated Domes and ADA Pads typically ship in 1-4 business days from warehouses in California, New York, or Florida, depending on the product(s) ordered. Each product page shows the location of the shipping warehouse.
NOTE: Due to their size, weight, and UPS/FedEx considering certain industrial adhesives as hazardous materials, truncated domes can only be shipped by Ground Services to a Business Address. Expedited air shipping is not available. Larger orders are shipped free by LTL freight truck services.
Self-Adhesive Truncated Domes ship from CA in 1-4 business days. 
Surface Mount Truncated Domes Tiles and Cast-in-Place Tiles ship from NY in 1-4 business days
Flexible Urethane ADA Pads ship from FL in 1-4 business days
You can view/download installation instructions on our site. We also include relevant product instructions with every shipment.

As soon as your order is received, we will advise you by email within 24 hours on the scheduled shipping date for your order. Tracking numbers/shipping carrier information is emailed to you within 24 hours of shipment.

All orders ship by ground/surface transport. Smaller orders may ship by UPS Ground or FedEx Ground. Larger orders will ship by LTL freight truck. Due to the large size and heavy weight of truncated domes products, expedited shipping by air is not available.
When you place an order, we will estimate shipping dates for you based on the availability of your items, and updated you by email.
Depending on inventory levels of selected styles, colors, and sizes, larger orders may take longer to ship. We will always advise you of the target ship date.
Will-call Pickups are Not Available. All orders are shipped, often from multiple locations, depending on the products ordered. Each product page shows the typical time to ship that product. We email tracking information when we schedule shipment and each time we make a shipment, so you will know the item is on the way, and when to expect delivery.
Have questions? Need a Quote or Free Consultation? Please contact us
More information:
Truncated Domes Installation Instructions
---
Share this Product
---
---
More from this category