FREE Shipping On Every Order
Self-Adhesive Truncated Domes Mats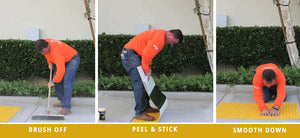 Easy to Install • Only 2mm Thick • Zero Trip-Hazard • Works on Both Asphalt and Concrete Surfaces
Surface Truncated Domes Tiles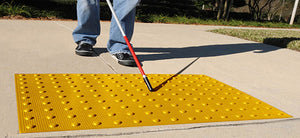 Quick Installation • Durable • Ceramic Truncated Domes Tiles for Concrete Surfaces
Cast-in-Place Truncated Domes Tiles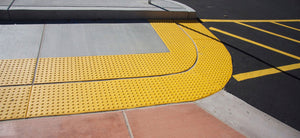 Ceramic Truncated Domes Tiles for Installation in Wet Concrete • Patented Remove and Replace Anchoring System
Flexible Urethane ADA Pads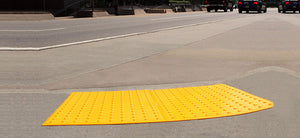 Flexible Urethane ADA Pads • Cushioned Surface • East to Mount on Concrete Surfaces 
High Quality | American Made | ADA and California Compliant | Guaranteed
Every Product from Truncated Domes Deopt is American Designed and Manufactured
Every Order You Place Gets FREE Shipping
Every Truncated Domes and ADA Pad Product is ADA Compliant
Truncated Domes Sizes Having a 3-Foot Dimension are California and ADA Compliant
All Products on Truncated Domes Depot Come with an ADA-Required Five Year Warranty
Truncated Domes Depot: We Cover the USA
Commercial Builders & Contractors, Property Managers, Municipalities and Schools have known about, trusted, and purchased from Truncated Domes Depot for years. Now individuals, small businesses and property owners can use this website to buy direct from Truncated Domes Depot, the Trusted National Distributor of American Made Truncated Domes and ADA Pads. Truncated Domes Depot distributes only American Designed and Manufactured, Federal ADA and State ADA and California code compliant products. And did we mention? At Truncated Domes Depot, Every Order Gets Free Shipping.
What Are Truncated Domes? Why Does the ADA Require My Business or Property to Install Truncated Domes?
What is the Purpose of ADA Tactile Warning Pads?
Truncated Domes are a tactile warning system designed exclusively for pedestrians. Federal and State ADA laws and regulations require truncated domes in specified areas to alert blind, sight-impaired, and other people/pedestrians when they are moving from a pedestrians-only space into an space with vehicles, such as when leaving a sidewalk to enter a street or parking lot. Tactile warnings provide a distinctive surface pattern of "truncated domes" or cones (which are small domes or cones that have had their tops cut off, or truncated) or "truncated bars" detectable by long cane or underfoot which are used to alert people with visual impairments of their approach to streets and hazardous drop-offs. People who are blind or visually impaired are alerted of impending danger from vehicle impact or a grade change. But because of their feeling the bumpy change in surface texture underfoot, and their noticing the sharp contrasting color of the domes (typically bright yellow) with the surrounding surface—even sighted people benefit from the alert provided by truncated domes, the warning that a person is moving from a pedestrian-only space into an area with vehicles. Truncated domes tactile warnings are for pedestrians and are not designed, intended, or required for use in areas with vehicular or mechanical traffic.
Why Do I Need to Install Truncated Domes?
Division of State Architect (DSA) ─ 2011 California Access Compliance Manual:Detectable warnings. Curb ramps shall have a detectable warning that extends the full width and depth of the curb ramp, excluding the flared sides, inside the grooved border. Detectable warnings shall be slip-resistant and consist of raised truncated domes. The detectable warning shall contrast visually with adjoining surfaces, either light-on-dark or dark-on-light. The material used to provide contrast shall be an integral part of the walking surface. The domes may be constructed in a variety of methods, including cast in place or stamped, or may be part of a prefabricated surface treatment.
Truncated Domes for Installation on Asphalt or Concrete from Truncated Domes Depot
While the Americans With Disabilities Act was passed in 1992, it was not until much later, after exhaustive studies, that truncated domes were legally required for many areas on private property, including curb cut outs, parking lot environments, wheelchair ramps, entrances, and paths of travel.
It has led to many businesses needing to install truncated domes on concrete that is already in place. Surface applied truncated domes allow property owners and managers to install ADA required truncated dome pads and meet local ordinances without having to break up, remove, and re-pour wet concrete.
Truncated Domes Depot supplies truncated domes and ADA pads in a range of sizes and colors (to meet ADA contrast requirements for tactile warning tiles and truncated domes). Most orders of any combination of products, sizes, and colors will ship in 1-4 business days from warehouses in California, New York, and Florida. When you buy from Truncated Domes Depot you never pay for shipping.
We supply Self-Adhesive ADA Pads, the only product that works both on asphalt surfaces (typically found in parking lots), and concrete surfaces. Our Surface Applied Tiles and Flexible Urethane Pads would be used for easy installation on pre-existing concrete surfaces. The Cast-In Place Truncated Domes are perfect for installation in wet freshly poured concrete.
So now you know what Truncated Domes are, and why federal ADA, California and State ADA, and municipal building codes call for their use.
If you have questions, or would like a free consultation or an estimate for your next truncated domes project, Contact Truncated Domes Depot