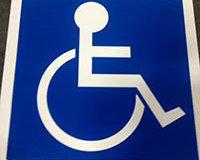 ADA Wheelchair Symbol to Mark Handicap Parking Spaces - 36" x 36"
TDD-SSP-ISA
Regular price
$225.00
$0.00
FREE SHIPPING
Self-Adhesive Handicap Parking Space Wheelchair Symbols from Truncated Domes Depot
This Self-Adhesive ADA Wheelchair Symbol Mat ships Free by Ground Services. Expedited air shipping is not available. Ships from California in just 1-4 business days.
Self-Adhesive Wheelchair Symbols for Handicap Parking Spaces from Truncated Domes Depot are a fast and easy alternative to using stencils and paints for marking handicap parking spaces with the ADA required wheelchair symbol.
One person can install this 3' x 3' peel and stick ADA wheelchair symbol in a handicap parking space in just minutes—without any special tools—and no drying time, no interruption or hassles for your customers, no need to close off your parking area. Just clean the surface, apply the 36" square wheelchair symbol mat, smooth down, and you're done. Works on asphalt. Works on concrete surfaces, too.
But it's a free country, and if you want to go out and buy blue and white paints (maybe at Home Depot?), and buy a stencil (some systems require using two stencils, one for each color), and then spend the time to deal with taping the stencil in position, then painting, then removing, then waiting for the paint to dry, then repeating all those steps for the second color, you can. (But hey, don't say we didn't warn you.;-)
Peel-'n-Stick and Space Age Adhesive Technology now make it easy to mark asphalt or concrete surfaced handicap parking spaces!
An ADA Approved Parking Stall Symbol that is Fast and Easy to Install
One Person, Minimal Preparation and Time for Installation
NO Paints, NO Stencils, NO Drying Time, No Hassles
NO Special Tools Required
NO Drilling or Anchoring Hardware Needed
NO Extended Downtime for your Valuable Customer Parking Spaces
Color is Royal Blue with White Wheelchair Symbol
Slip Resistant Surface
Only 2mm thick for Zero Trip Hazard!
Weather, UV, Water and Temperature Resistant
These self-adhesive ADA parking symbol mats are an excellent product and easy to install. But each mat must be installed correctly, following the instructions included with the mats we ship to you.
2 year product warranty. Improper installation may void warranty.
This quick and easy to apply self-adhesive Wheelchair Symbol for ADA parking spaces is in stock and ships Free by UPS Ground. Make sure your parking area is ADA compliant by installing this wheelchair symbol as required by law. Simply clean the surface where the wheelchair symbol mat will be installed. Peel away the backing to reveal the industrial strength adhesive coating the backside of the wheelchair symbol, then lay the mat in a rolling motion from one end to the other, and smooth it down to press out any trapped air. The adhesive used is ultra-strong, heavy-duty and long-lasting. Space age technology makes the mat weather, UV, water and temperature-resistant. This product has a two-year warranty.
If you have the time and money, you can always hire a professional parking lot striper/painter. But why spend more and wait? Save time and money using this easy to do-it-yourself handicap parking stall symbol. These ISA (International Symbol of Accessibility) mats meet Federal, California and other state ADA requirements.
The adhesive used in this parking space wheelchair symbol mat is ultra-strong, heavy-duty and long-lasting. It is secure and fast and will stick to asphalt pavement surfaces. The mat is weather, UV, water and temperature-resistant.
Even professional parking lot stripers and painters who send out crews using old-fashioned stencils to paint and mark handicap parking spaces are switching to this proven cost-effective, time-saving adhesive mat technology.
---
Every Order from Truncated Domes Depot Gets

Free Shipping
High Quality | American Made | ADA/California Compliant
Our American Designed and Manufactured Truncated Domes and ADA Pads typically ship in 1-4 business days from warehouses in California, New York, or Florida, depending on the product(s) ordered. Each product page shows the location of the shipping warehouse.
NOTE: Due to their size, weight, and UPS/FedEx considering certain industrial adhesives as hazardous materials, truncated domes can only be shipped by Ground Services to a Business Address. Expedited air shipping is not available. Larger orders are shipped free by LTL freight truck services.
Self-Adhesive Truncated Domes ship from CA in 1-4 business days. 
Surface Mount Truncated Domes Tiles and Cast-in-Place Tiles ship from NY in 1-4 business days
Flexible Urethane ADA Pads ship from FL in 1-4 business days
You can view/download installation instructions on our site. We also include relevant product instructions with every shipment.

As soon as your order is received, we will advise you by email within 24 hours on the scheduled shipping date for your order. Tracking numbers/shipping carrier information is emailed to you within 24 hours of shipment.

All orders ship by ground/surface transport. Smaller orders may ship by UPS Ground or FedEx Ground. Larger orders will ship by LTL freight truck. Due to the large size and heavy weight of truncated domes products, expedited shipping by air is not available.
When you place an order, we will estimate shipping dates for you based on the availability of your items, and updated you by email.
Depending on inventory levels of selected styles, colors, and sizes, larger orders may take longer to ship. We will always advise you of the target ship date.
Will-call Pickups are Not Available. All orders are shipped, often from multiple locations, depending on the products ordered. Each product page shows the typical time to ship that product. We email tracking information when we schedule shipment and each time we make a shipment, so you will know the item is on the way, and when to expect delivery.
Have questions? Need a Quote or Free Consultation? Please contact us
More information:
Truncated Domes Installation Instructions
---
Share this Product
---
---
More from this category