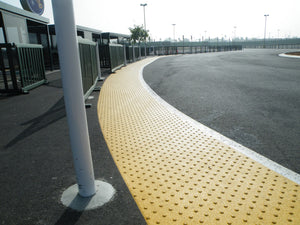 Truncated domes, a form of detectable warnings, have been around for a while.
 It is one of those items which is not a great solution but there does not appear to be anything comparable. It is meant for people with a visual impairment to determine the boundary between a sidewalk and a street. It has been used to warn of hazards along a circulation path where there is no curb, although it can cause a problem for people with other types of disabilities and can even create a trip hazard for those who are able-bodied. Also, in new construction, there has been a trend to eliminate curbs so we have even a less of a separation between vehicles and pedestrians.
---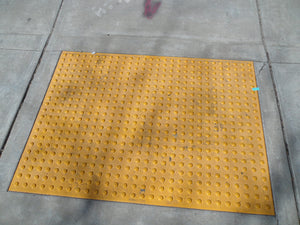 When looking for truncated dome mats that are simple and quick to use, check out the self-adhesive style of truncated domes. T
hese products can be installed in a few minutes, and do not require special tools or skills.
---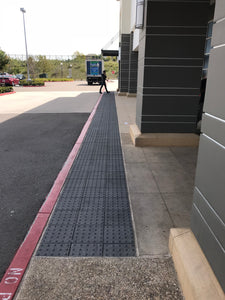 Self-Adhesive Truncated Domes Mats
Self-adhesive style truncated domes are mats with a powerful adhesive already applied to the underside. They can be quickly installed on concrete or asphalt surfaces. Unlike truncated domes tiles, self-adhesive mats are extremely thin with virtually no trip hazard.
---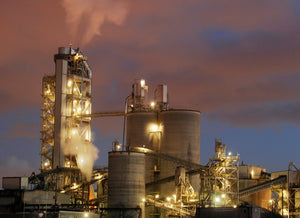 It's the stuff of modern life, and we use it in astonishing quantities. Last year, around the world, nearly two billion tons of steel was produced — more than 500 pounds for every person on earth. And at least 30 billion tons of concrete, or nearly 9,000 pounds for each of us. The scale can be hard to believe, until you look at a runway or a suspension bridge and contemplate what was required to build it.
---
• ADA Laws & Regulations • Truncated Domes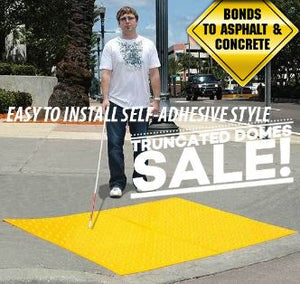 Apart from developing blended cements, researchers and companies are focusing on ways to use captured CO2 as an ingredient in the concrete itself, locking it away and preventing it from entering the atmosphere. CO2 can be added in the form of aggregates — or injected during mixing. Carbonation curing, also known as CO2 curing, can also be used after concrete has been cast.